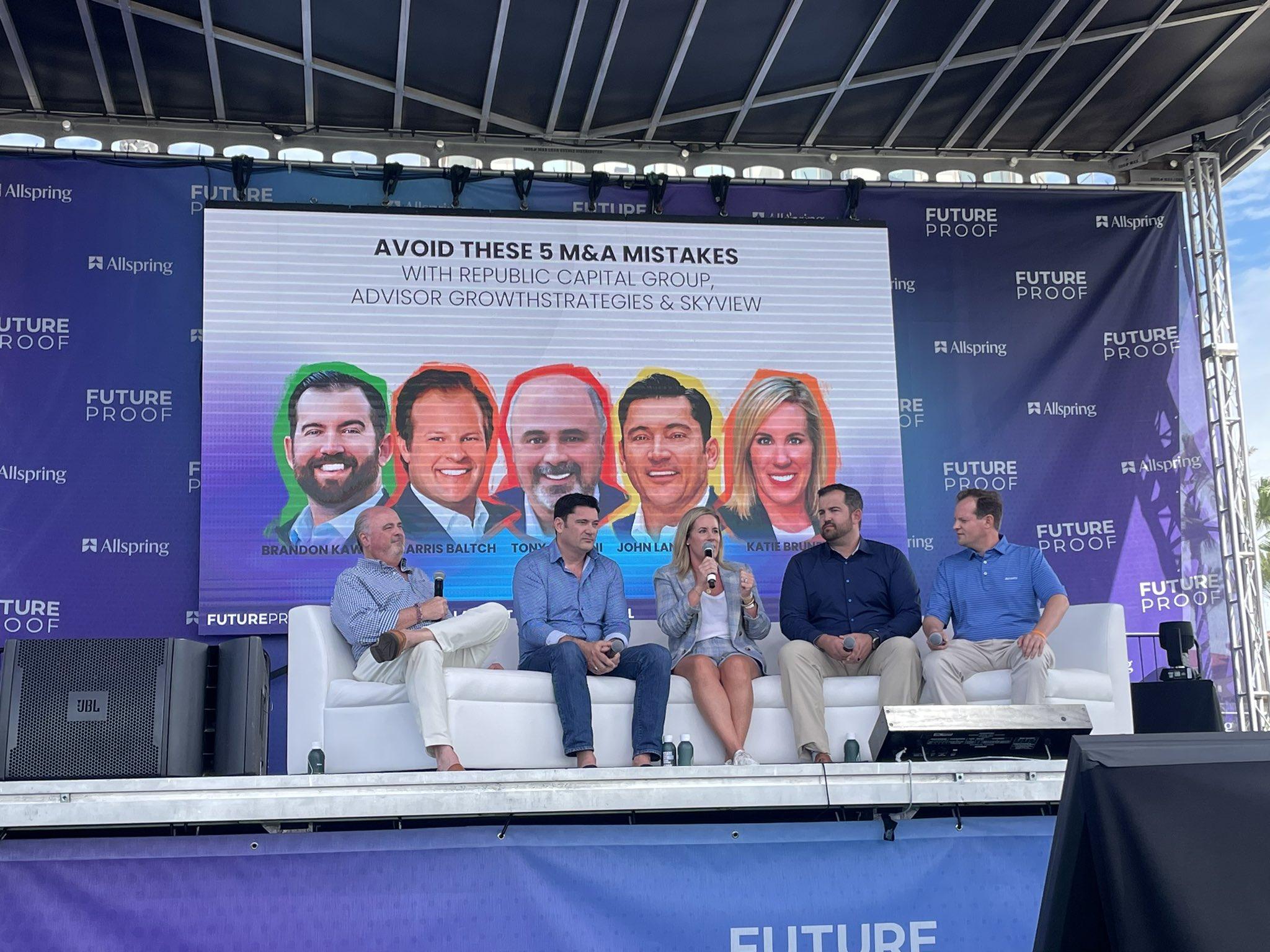 Avoiding the 'loveless marriage' of a bad

M&A

deal
By Justin L. Mack, FinancialPlanning.com - When asked to break down what it's like to find the right fit in an M&A deal without using empty buzzwords that sound good but say very little like "culture" and "synergy," John Langston simply said it's like a marriage.
The founding managing partner at Republic Capital Group explained that whether you're a buyer or seller, you should know what you really want before shouting "I do" to the first person who takes your hand and appears to have your best interests in mind. 
"It's so important to have conversations with lots of different types of people and lots of different types of firms. And before you make any rash decisions, give yourself an education around what it is you think you want to get out of an M&A process in order to accomplish your long-term strategic goals," Langston said. "So before you say yes to a marriage, it's really important to do your due diligence." 
His analogy elicited nods of approval from the three other M&A experts he shared the stage with Monday at the second annual Future Proof Festival in Huntington Beach, California, to discuss common mistakes both buyers and sellers make when going through the acquisition process. 
To carry Langston's example forward, Harris Baltch, head of M&A and capital strategies for Dynasty Financial Partners, added that while the word acquisition is used, these deals that see two firms become one are true partnerships that have to make sense for both your bottom line and your peace of mind.
"You really have to be comfortable that you're going to wake up six months after a deal and be really excited about the choice for the people that you chose to work with in the process," he said. "Really the litmus test is … looking at it and saying 'what are my clients, my friends, going to say when I go to tell them I'm going through with this partnership?' And that's what really has to guide all the decision-making because the numbers will work themselves out. But if you wake up six months down the road (and you're unhappy), you can't get out of the deal. It's a one-time event." 
Cutting right to the heart of the issue, Skyview Partners President Katie Bruner drove the point home that making it work is all about making it work. Fit has to go beyond the buzzwords and evolve into something that actually functions.
"It's all about culture and synergies until it's not. And statistically, there's a lot of loveless marriages in our country," she said. "I would say that you don't necessarily have to love your partner … but operationally that marriage has to work.
"When it comes down to fit, it's back office (and) front office coming together, technology platforms, transition process. Those things are really what can drive the fit outside of the culture and synergies." 
Going around the horn to highlight major M&A missteps that should be avoided at all costs, Brandon Kawal, principal at Advisor Growth Strategies, said a big one is not clarifying your goals or having a specific intent before heading into a deal.
It is important that both sides know each other's motivations, and that those goals be kept front and center throughout the process. 
"I think for a lot of buyers, the mistake that we see is you're going up against very professional firms who know what they're after and know why they're trying to be in M&A and what they're trying to accomplish," he said. "I think for sellers, the same can be said. Why are you pursuing a transaction? Time can change all deals. It can also give you a lot of second thoughts if you're not really anchored to why you're in it. 
"In my personal opinion, valuation, money, it'll get you so far. But if you're not anchored to something long term, it'll fall apart pretty quick." 
On the subject of time, Langston said a mistake he often sees is one side or both sides moving too slowly to make something happen. He reiterates that due diligence is crucial, but that process shouldn't devolve into sitting on your hands.
"When you see some of the firms that are doing a lot of transactions, a hallmark of those firms that move very quickly … we just had an instance last week where Creative Planning purchased the assets that were formerly United Capital. And that transaction came together in eight days. So I would say, learn and be in a position to be psychologically, financially (and) intellectually ready to move very quickly." 
Bruner said one of the things that can contribute to that dragging of feet is working with a firm that doesn't have a clear transition process or a very detail-oriented person around to lead that transition process.
"On the flip side of that, I think an undervalued component of the process is the value of really clean, good data. I think a lot of sellers, especially under the billion dollar range, don't have very good data. And if you have good clean data, it can really help upsell your practice and your firm," she said. "And that's something that a very savvy buyer will be looking for. So if you're in a selling position, I think, good clean data and those platforms and technologies to track that are critical." 
For Baltch, one of the biggest M&A hurdles is something he described as a sickness he sees on both sides of the coin.
"I call it shiny object syndrome — SOS. It's when you're on the buy side and you're looking to chase everything that fits, and you don't care about affordability. You just care about size, splashy PR announcements and making your firm grow. What it means in terms of the long-term value proposition of your firm is very difficult to overcome because you're just willing to look at everything, and you're not being disciplined," he said. "And on the sell side, when you have shiny object syndrome, you're just chasing the top dollar. It doesn't matter what kind of structures are put in place or whether you're doing the appropriate reverse due diligence." 
When batting around the future of M&A activity in wealth management, the quartet of experts advised the audience to not mistake greater selectivity among buyers as a sign that the action is slowing down.
The capital hasn't just up and vanished, Kawal said. It's just that the industry is maturing, and both sides are doing a better job of looking before they leap.
"I do think we're in an environment where deals will continue to happen. But don't take that as a given like there's going to be a deal out there for you," he said. "Because I believe strongly that for every RIA, you have the same challenge in the M&A market today that you have with investors. Put five of you in a room, you've got to figure out how you're different.
How do the people fit in? How do we grow? How do we have more success together? And there's a lot more to choose from on both sides of the table. So I'm pretty bullish on M&A in this space."
To view the original article written by Justin L. Mack - Wealthtech Reporter, Financial Planning, please visit:
https://www.financial-planning.com/news/avoiding-the-loveless-marriage-of-a-bad-m-a-deal