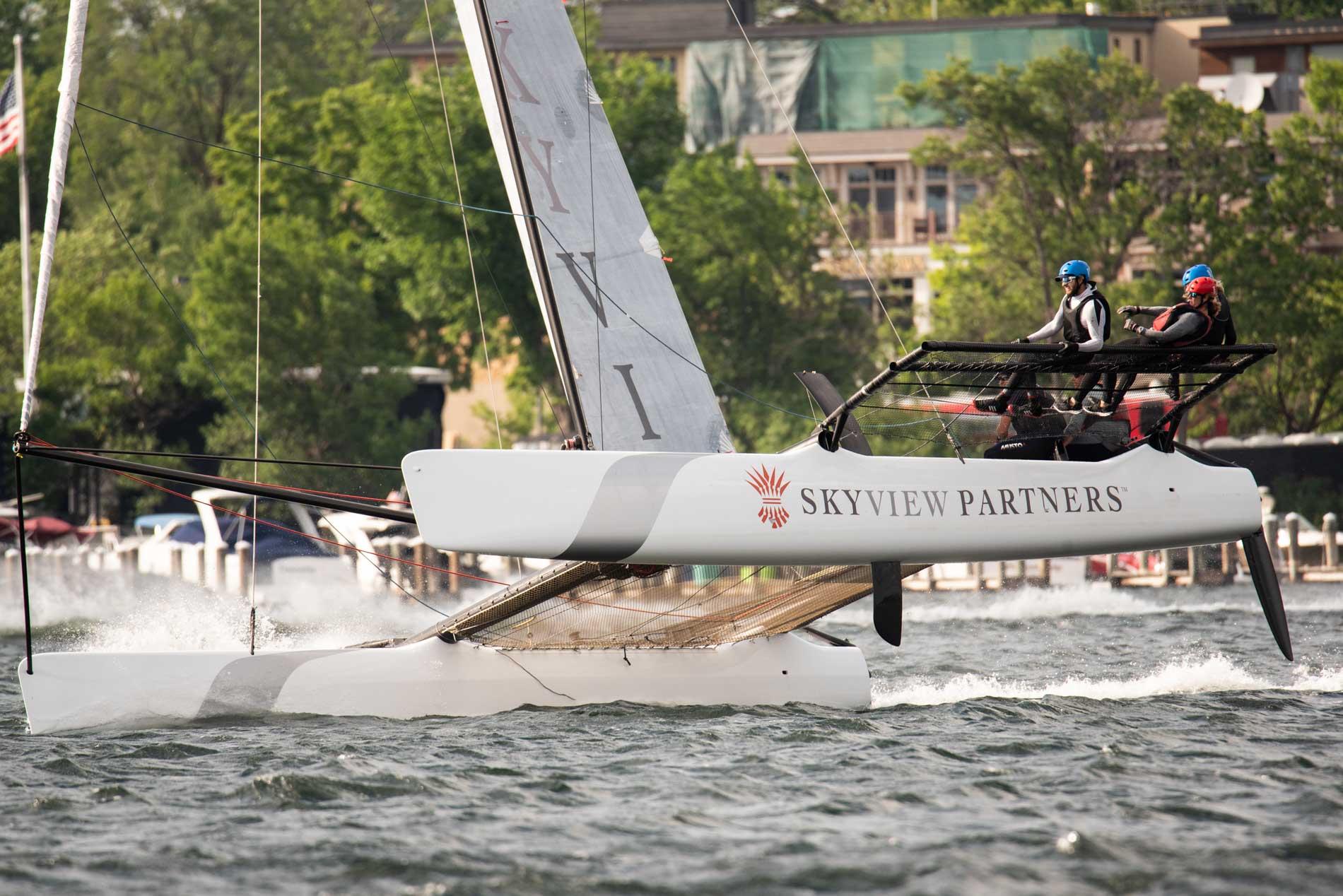 SkyView Partners-Sponsored M32 Catamaran Wins 4th Annual Wayzata Match Cup
Victory Over Three Other Teams was SkyView Partners' Second Match Cup Win in Two Years
Wayzata Match Cup is One of Six Competitions in the M32 North American Series
WAYZATA, Minn., June 26, 2019 /PRNewswire/ -- On Sunday, June 23, the SkyView Partners M32 catamaran returned to Lake Minnetonka for a second time, capturing the fourth annual Wayzata Match Cup. The race took place in Wayzata, Minnesota, and featured four world-class match racing teams from around the globe. 
Each team competed on high-performance M32 catamarans, towering 60 feet high and reaching speeds of over 25 miles per hour.
The SkyView Partners catamaran was skippered by Jennifer Wilson, leader of Team Convergence. In the face of tough competition, SkyView Partners brought home its second Match Cup win in two years.
Organized by professional sailor Sam Rogers and community leader Andrew Mullin, the Wayzata Match Cup is one of six stops in the M32 North America Series. 
"We are extremely pleased with the level of competition and professionalism we had at the fourth edition of the Wayzata Match Cup, which is a real testament to the sailors and sponsors that we had on board for the 2019 edition," Rogers said.
Scott Wetzel, Managing Partner of SkyView Partners, said, "We're thrilled to be a part of the M32 catamaran community this year for the Match Cup. We were fortunate to have one of the best sailors in the world at the helm." 
The SkyView Partners M32 catamaran returns to competition in Newport, Rhode Island, on July 12-14, 2019.